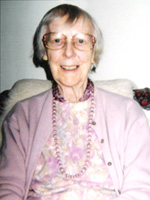 Audrey McAllen was born in December 30th, 1920 in England. She began her career teaching at a boarding school in Winchester inspired by her mother.

When the World War II broke out, she returned to her family home in Southampton and was invited to teach in their sitting room due to a great lack of schools at that time.

She began studying Anthroposophy at Sunfield Homes at Clent in Birmingham, where she met Eileen Hutchins who was in charge of the Teacher Training at Elmfield School and told her about the Waldorf Schools. She takes the training at the age of 21 and also takes courses on children with special needs at the Sunfield school, based on Rudolf Steiner's 1909 lectures – Psychology of Body, Soul and Spirit. This led to the deeper observation of children's movement in relationship to development, learning and consciousness.

Audrey worked as a class teacher at Michael Hall School, Forest Row, Sussex for 10 years. This was a rewarding experience, but left her with health problems. At the time she had to move to take care of her mother who was ill.

It was now 1961 and she is living in Gloucester. Dr. Norbert Glass, school doctor of Wynstone School, asked her to work with one student who was having difficulties in school. She embarks on a life's work of deepening her studies about Steiner´s Waldorf Education, along with talks to Dr. Glas and colleagues from the school.

That culminates with the publishing of The Extra Lesson book in 1973. After some time she gets in contact with the work on neuropsychology and sensory integration, by the American neurologist and OT Dr. Jean Ayres, that confirmed her research. She met many people along the way that inspired and encouraged her work and has been on lecture tour in the US, Europe and New Zealand.

Audrey's book on Sleep was just republished with color pictures of the moral color exercises and a new addition has just come out, Understanding Children's Pictures: The Person, House, Tree Picture. Now the Extra Lesson in published in a new revised English edition, is published in Spanish, and now the first chapters in Portuguese. It is also being studied and used in teacher trainings in Germany, Italy, Hungary and other countries world wide.

She died in December 17th, 2010. We thank Audrey McAllen for her lifetime of research and work for the development and education of children. We are grateful for the gift that she has given to us as teachers, therapists, doctors and parents.